livestream by
Democracy TV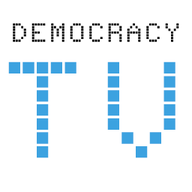 The Pots & Pans Revolution, Re-heated; Iceland's Constitutional Comeback
88 6.00pm Tue 7 Nov 2017
Katrin Oddsdottir presents the latest from the efforts to get the crowd-sourced Icelandic constitution ratified.
About this event
Iceland's Crowd Sourced Constitution was kicked into touch by politicians in 2011 -- but it's making a comeback. Katrin Oddsdóttir was one of 25 members of the Constitution Council of Iceland, which drafted the new constitution in a process recognised worldwide for its emphasis on democratic methods and social media tools. The draft constitution contains clauses on environmental protection, highlights international human rights law and the rights of refugees and migrants, and proposes a redistribution of Iceland's natural resources – notably fishing. Oddsdóttir has been a political activist from early age, but became well known in Iceland after delivering a radical political speech at mass protests after the economic crash in 2009, while studying law. She currently works as a human rights lawyer at Rettur - Adalsteinsson & Partners law firm in Iceland, concentrating on the rights of refugees, disabled people and children, among other related fields. She has an MA in Human Rights from the University of London and a BA in law from Reykjavik University. Oddsdóttir has a BA in journalism from Dublin City University and has worked as a journalist and copy writer. Could Iceland provide a model for Scotland?
Speakers
Katrin Oddsdottir, Patrick Harvie, Lesley Riddoch
Venue
The Scottish Storytelling Centre, Edinburgh EH1
Views expressed on our broadcasts do not necessarily reflect the views of the Independence Live collective nor should our coverage of any event, individual or organisation be taken as an endorsement.
Support the work of Independence Live
Would you like your event livestreamed?
What's most popular during last...
based on Livestream.com & YouTube, not yet including Facebook LIVE
Subscribe to our mailing list